Kidney Failure Treatment
Chronic Kidney Disease in Cats
One of the main health issues that owners of older cats need to be aware of is chronic kidney disease (CKD).  Though frequently seen in elderly cats, this disease can begin years in advance.  It is a serious condition that could escalate in severity quickly and should therefore not be taken lightly.  If this condition is suspected in a cat, kidney disease treatment should be sought with urgency.
This disease, which also goes by the names of chronic renal failure (CRF) or chronic renal disease (CRD), is seen in 3 out of 10 cats that are of old age.   While some cats may experience an acute, or sudden, onset of kidney disease, chronic kidney disease is much more commonplace.
In normal circumstances, CKD can develop undetected for many years.  Once the signs begin emerging in the senior years of the cat's life, the disease is well advanced and is already taking a toll.
Following a diagnosis of CKD, cats can live from a few months to a few years.  This all depends on how advanced the disease is and what kind of kidney disease treatment is given.  As of this time, there is no single cure for chronic kidney disease in cats.
What is the Purpose of Kidneys?
Just as like humans, cats need kidneys to filter out the waste and toxins from the bloodstream, restore equilibrium to the naturally occurring nutrients in the body, and to ensure the wastes are filtered out of the body through the urine.
While kidneys filter out the waste, they also work to keep the necessary nutrients in the blood.  Even more, the regulation of blood pressure, vitamins, and minerals in the body is controlled by the kidneys.  Because of this, kidney failure is detrimental to a cat.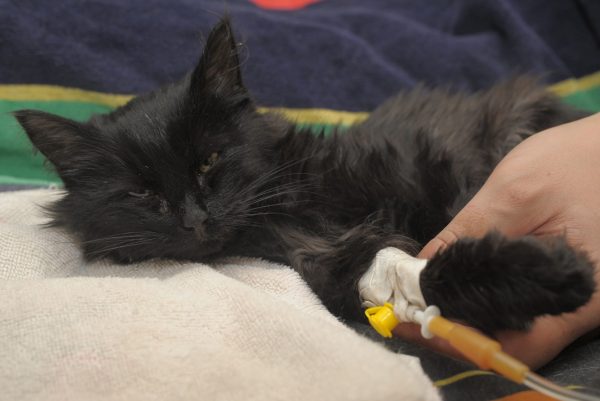 Causes of Chronic Kidney Disease
Because the kidneys have such a wide array of functions in the body of a cat, there are many possible causes that either bring about or facilitate kidney disease.
Pyelonephritis: The kidney tissue becomes infected, usually by bacteria.
Kidney Blockage: Kidney stones (nephroliths) form and block the ureter, inhibiting urine to pass through normally.
Poison: The ingestion of pesticides through licking plants or the water around plants or accidentally ingesting medication can lead to kidney toxicity.
Neoplasia: Tumors of the kidney.
Feline Infectious Peritonitis: Swelling of the kidneys.
Tubulointerstitial Disease: Tubules within the kidneys are inflamed and not working properly.
Viral infections
These are only some of the common culprits that can trigger CKD in cats.  In felines 9 years of age or older, kidney diseases are especially prevalent.
Symptoms of Kidney Disease  

 
Kidney disease tends to progress in specific stages, as outlined by the International Renal Interest Society (IRIS).  These stages go from 1 through 4, with 4 being the most severe, advanced case of it.  Kidney disease stages also tend to correspond to how many signs are seen in a cat.
Kidney disease often develops without any symptoms.  It is only until the disease is far along that elderly cat kidney failure symptoms begin to spring up.  Therefore, if any of the following symptoms are seen, a vet should be visited to ensure kidney disease is not the root of the symptoms.
Consuming large amounts of water
Frequent urination
Decrease in appetite and subsequent weight loss
Vomiting
Diarrhea
Weakness and/or decrease in activity
Pale gums and/or bad breath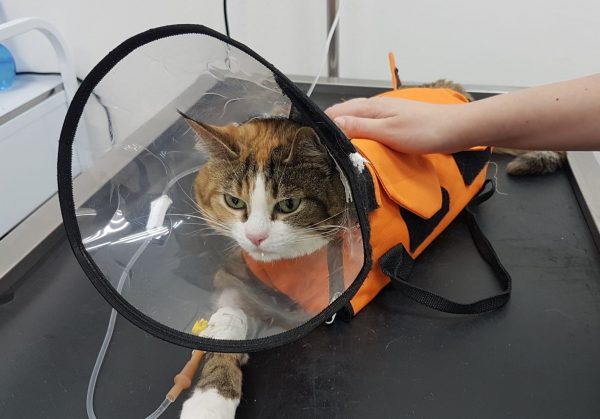 In cat kidney disease, meowing that is constant may also indicate a problem.  In some rare cases of cat kidney failure, back legs of the cat often become weak due to an insufficient blood count.
It is important to remember that many other diseases produce symptoms like these, so a vet must be consulted to determine if CKD is present or not.  Diagnostic tests and screenings are the best way to detect it.
If kidney disease is at all suspected, a vet should be seen immediately, and blood work should be done as one of the primary steps in diagnosis.
Diagnosing Kidney Disease in Cats
Even if the symptoms are not present, it is recommended that older cats be screened for possible kidney issues.  To detect the failure of a kidney, blood test results are one of the best methods, given that low blood count (anemia) is often a definite sign of CKD.
Some typical measures to diagnose CKD include:
Checking of the protein and creatinine levels in the urine (this determines what stage of CKD the cat is in)
Chemistry profile
Physical examination
Monitoring of blood pressure
Urinalysis
Radiograph (X-ray)
If CKD is diagnosed by the vet, a kidney failure treatment plan will be put into action based on the cat's stage of CKD, its medical history, and factors like age and weight.
Kidney Disease Treatment in Cats
Treatment can range from medication to surgery.  It all depends on how far advanced the disease is.  In some cases, the disease is so far advanced, there is only about 25% functionality of the kidneys left.  A certified vet will best be able to decipher what is the best route of kidney disease treatment.
Not all the following treatment options will work for every cat and, no matter what, any and all treatment should be based on a vet's recommendations.  Articles such as this are strictly to inform, not diagnose or treat.
Kidney Disease Food and Diet
A diet based on the goal of restoring the kidneys to normal functioning is an integral aspect of any treatment regimen for CKD.  Studies have found that not only do many cats improve on kidney diets, but they live longer on average.
Cat kidney disease diets are usually low in protein and phosphorous since failing kidneys have a harder time processing them.  Cats do need protein to keep other parts of the body functioning, however, so a strict diet of premium quality proteins should be given.
These diets also help keep in balance other natural vitamins and minerals like potassium, magnesium, and salt.  Many vets recommend a Royal Canin cat kidney diet, which supports renal health.  Some cats are reluctant to accept such a significant change in diet, so Royal Canin kibble is made to resemble normal cat food to help facilitate a normal appetite.
Water is of the utmost importance to kidney health, so plenty of it should be in constant supply for cats with CKD.  To make up for the substantial loss in necessary fluids, daily sodium chloride subcutaneous fluids may be recommended for a cat to receive at home to keep it sufficiently hydrated.
Medication
If a bacterial or viral infection is identified in the kidneys, cat kidney infection antibiotics may be prescribed.
The go-to antibiotics usually prescribed for cats with CKD are:
Amoxicillin (Clavamox)
Cefovecin (Convenia)
Metronidazole (Flagyl)
Enrofloxacin (Baytril)
Clindamycin (Antirobe)
A vet's recommended prescription of an antibiotic should always be followed exactly.  If any concerns or questions arise, the vet will always be the best source of information.
Surgery
In severe cases of CKD, surgical procedures may be the only option.  Cat kidney stone surgery may be needed if nephrolithiasis (kidney stones) has occurred.  While some kidney stones can be dissolved, others are not so easily disposed of.  Surgery may then be suggested.  However, surgery poses risks of damaging the kidneys, so this should only be a last resort.
In some extreme cases, a cat kidney transplant may be required.
Although cats dealing with kidney disease never usually recover fully, their lives can be prolonged and kept as happy as possible if treatment is sought out and used as directed by a qualified vet. If you want to learn about more cat health problems, check out our cat health page, which we update each month.